Sachin Ramesh Tendulkar also called as Little master is an abbrevation for perfection and dignity. He is the world's greatest batsman ever in the history of world cricket and there is no body who can surpass his greatness. Who thought that a small boy with below average height would make it so big one day that it would be almost impossible for future generations to even go nearer to the records set by him. Having 100 first class centuries is not a joke.
Having scored more than 60000 runs in all formats of the game is not an easy task.
You are successful only when people around you love you
The question is: What is so distinct in this man which sets him a class apart from all the players in the world till date???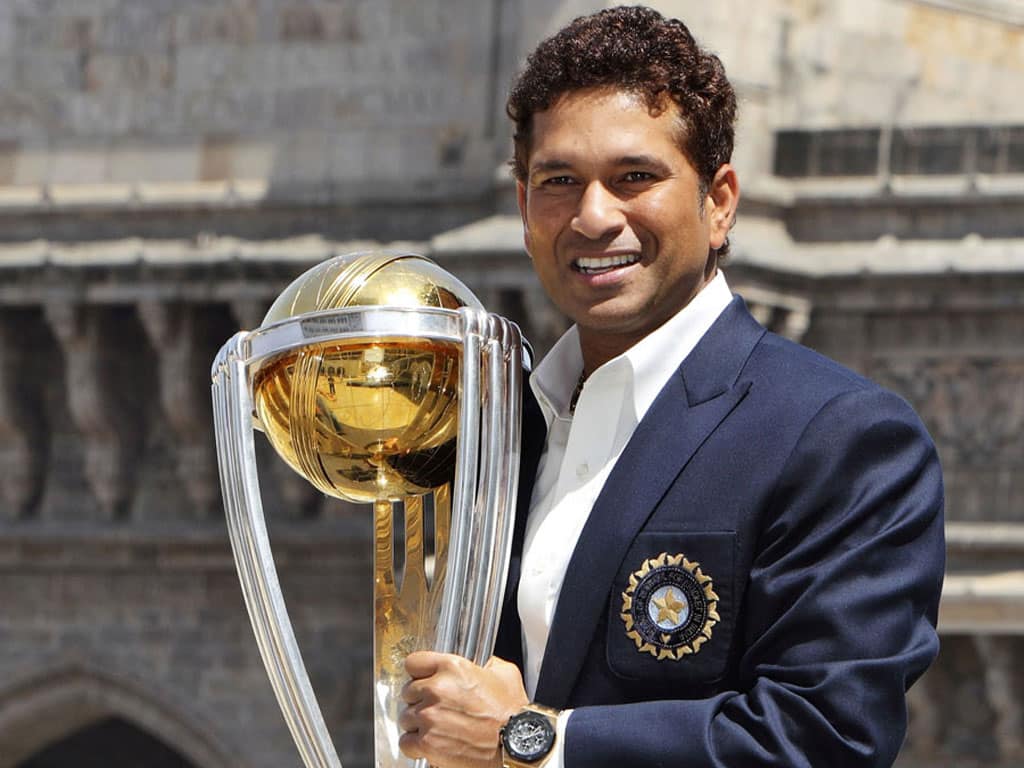 The answer to this question can only be understood by the people who have spent time with the champ. The young players of today's generation treats him as an elder brother in dressing room . In-spite of achieving so much, he does not boast of anything rather lives a simple life and that is whats the secret of his flamboyant personality.
Sachin says "My father has always been a guiding torch for me, He told me that life is temporary, the only thing that matters is the impression you leave on people's mind".
I would like to share some lesser known facts about Sachin with the readers-
-Sachin used to sleep with his cricket gear during his junior days.
-Sachin's first car was Maruti 800
-Sachin was the first batsman in world cricket to be given out by a third empire in 1992.
-Sachin's tendulkar bat is the heaviest bat used by any player weighing 3.2 lbs.
-Sachin is the only cricketer to be awarded Rajiv Gandhi Khel Ratna, Arjuna and Padamshree by Indian Govt.
-Sachin is so possessive about his ferrari that even his wife is not allowed to drive it.
-Sachin is the only cricket to have 49 ODI and 51 test cricket centuries which is way way ahead of the runner up Rickey Ponting having 30 ODI and 41 test centuries.
-Sachin is the only cricketer to score 15837 test runs and 18426 ODI runs which is way ahead of the runner up Rickey Ponting having 13378 test runs and 13704 ODI runs.
Lets us throw some light on what other great cricketers have to say about Sachin:-
Sir Don Bradman
"
I saw him playing on television and was struck by his technique, so I asked my wife to come look at him. Now I never saw myself play, but I feel that this player is playing much the same as I used to play
."
Kapil Dev
"The way he has taken on the role of India's greatest sporting ambassador... He has, among other things, inspired a generation and more to play cricket."
Sunil Gavaskar
"I would really like to bend down and touch his feet. If somebody is at that pedestal, I would like to do that."
Sir Viv Richards
"I have never seen Bradman but heard people talk about him. But I tell you what, if Bradman could bat like this man does then he was dynamite. Players like Sachin deserve to be preserved in cotton wool."
Shane Warne
"I'll be going to bed having nightmares of Sachin just running down the wicket and belting me back over the head for six. He was unstoppable. I don't think anyone, apart from Don Bradman, is in the same class as Sachin Tendulkar. He is just an amazing player."
Virat Kohli says--
"I have grown up watching him play and only wanted to bat like him. It will be a very difficult moment for me when he retires. He has been the biggest match winner for India and such a huge inspiration for all of us," said Kohli, who turned a touch emotional on the eve of India's second ODI against Australia here.
"For 24 years, we never thought that there could be an Indian cricket team without Sachin. I don't know how I would react when he would step out one last time and what will be the reaction of the whole team.
"Just like everyone in India, we are also sad that he will not play any longer," he added.
I remember once when a political party in India wanted him to say publicly that He is a citizen of that state first and plays for that state first rather than India first. I feel proud to say in what he said. He announced "I am an Indian first and play for India, every state or my personal benefits come after that". The day he announced his retirement, during an official press conference he said very politely "I dont know what will I do after cricket?.. because Cricket is only what I know . I am borne with cricket and die with cricket, its in my blood and it is very hard to imagine a life without cricket."
Such is the persona of the person that everybody from a youngster to an elder wants to be like him. He is the definition of cricket in INDIA . There was a time when People used to say "If Sachin is out, whole team is out , lets switch off the TV now".
I finish my post here with tears in my eyes and pray to GOD that such a gentle soul continues to be loved by all through out the life and may he continue to inspire thousands of aspiring young players who born with a dream in their eyes that some day they will reach somewhere nearer to Sachin because it is almost impossible for anyone to reach there where he stands now.
Sachin's career stats
Batting and fielding averages
| | Mat | Inns | NO | Runs | HS | Ave | BF | SR | 100 | 50 | 4s | 6s | Ct | St |
| --- | --- | --- | --- | --- | --- | --- | --- | --- | --- | --- | --- | --- | --- | --- |
| Tests | 198 | 327 | 33 | 15837 | 248* | 53.86 | | | 51 | 67 | | 69 | 115 | 0 |
| ODIs | 463 | 452 | 41 | 18426 | 200* | 44.83 | 21367 | 86.23 | 49 | 96 | 2016 | 195 | 140 | 0 |
| T20Is | 1 | 1 | 0 | 10 | 10 | 10.00 | 12 | 83.33 | 0 | 0 | 2 | 0 | 1 | 0 |
| First-class | 307 | 486 | 50 | 25228 | 248* | 57.86 | | | 81 | 114 | | | 186 | 0 |
| List A | 551 | 538 | 55 | 21999 | 200* | 45.54 | | | 60 | 114 | | | 175 | 0 |
| Twenty20 | 96 | 96 | 11 | 2797 | 100* | 32.90 | 2310 | 121.08 | 1 | 16 | 359 | 38 | 28 | 0 |
| | Mat | Inns | Balls | Runs | Wkts | BBI | BBM | Ave | Econ | SR | 4w | 5w | 10 |
| --- | --- | --- | --- | --- | --- | --- | --- | --- | --- | --- | --- | --- | --- |
| Tests | 198 | 142 | 4198 | 2461 | 45 | 3/10 | 3/14 | 54.68 | 3.51 | 93.2 | 0 | 0 | 0 |
| ODIs | 463 | 270 | 8054 | 6850 | 154 | 5/32 | 5/32 | 44.48 | 5.10 | 52.2 | 4 | 2 | 0 |
| T20Is | 1 | 1 | 15 | 12 | 1 | 1/12 | 1/12 | 12.00 | 4.80 | 15.0 | 0 | 0 | 0 |
| First-class | 307 | | 7563 | 4353 | 70 | 3/10 | | 62.18 | 3.45 | 108.0 | | 0 | 0 |
| List A | 551 | | 10230 | 8478 | 201 | 5/32 | 5/32 | 42.17 | 4.97 | 50.8 | 4 | 2 | 0 |
| Twenty20 | 96 | 8 | 93 | 123 | 2 | 1/12 | 1/12 | 61.50 | 7.93 | 46.5 | 0 | 0 | 0 |